Nearby Attractions
Being in the heart of the city rue Mouffetard is near many of the important attractions of the city. The 5th is a historic part of the city as well at so there are more than usually important structures.
As part of the Latin Quarter, the academic part of Paris, it is also well populated not just with academic institutions, but with students, and things that serve students.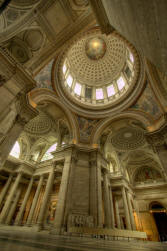 Panthéon - This greatest monument of the city was built originally as a church, and had foundations laid in 1758, but today is one of the highlights of any visit to the city. With tombs of the great of the country and the great dome it is the ultimate example of early neoclassicism. With everybody from Marie Curie to Victor Hugo interred here it is a real trip through French history. website
Jardin des Plantes - Originally a place where the medical herbs for Royalty were grown this 17th century botanical gardens is the most interesting in Paris. Today visit the menagerie and all the museums which could be entertainment for the whole family for an entire day at least. The lines of trees and benches that border the path at the sides of the garden make a wonderful sitting place. It is calm and relaxing and a great place to take a pause in a trip to busy Paris. It is free entry to the gardens, but the individual museums have their own entry fees. website
Arenes de Lutece - Located nearby on rue Monge this is one of the oldest remains in the city as it goes back to the 1st century AD when the city was a Roman town and like all roman towns had an Arena. Although lost for hundreds of years the arena was uncovered and preserved by a team headed by Victor Hugo during the 1880s. Now a public monument it is a mixture of original structures and reconstructions, and is actively used today by local citizens as a public space for impromptu soccer or boule games.
Musée Curie - Located in the building where Madam Curie's lab operated this small museum to the history of radiological research was recently renovated with a grant from the Curie family. Free to enter it is open Wednesday to Saturday, from 1 PM to 5 PM website
Grande Mosquée de Paris - The largest Islamic place of worship in the city this is a busy Mosque which also welcomes visitors who wish to enjoy the architecture. Set in beautiful gardens it also has a popular cafe that serves pastries and drinks. website
Eglise Saint-Médard - Situated at the southern end of rue Moufettard where it joins with rue Censier this parish church was built in 1875. Today it still functions daily but is also visited for the nice quiet garden outside. website
Rue Mouffetard - Definitive Guide - Market - Getting to - Hotels -Food